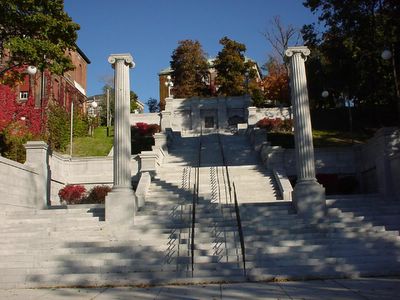 The Approach
Ok, so a little about the picture. This is a picture looking in a generally eastward direction from downtown Troy, New York (home of the Troylettes) up the hill towards the RPI campus. This is one of the favorite ways for engineers to get from campus to the town and it's many lager labs. It also makes for amusing times in the winter both going down to town and returning. I have walked it's stairs many times, usually when heading to I Love NY pizza for their dollar slices on the weekends. In heavy snow, some engineers have been known to go sledding down the approach, however all risks are done in the name of science and technology, as well as to help find better and faster means to heal the broken bones that no doubt result. I though this would be a fine picture to give some get my short series on "The Tute" off to a good start.
Way back in 1824, the Rensselaer School was established in Troy (apparently it was a happening town back then) by Stephen Van Rensselaer "for the purpose of instructing persons...in the application of science to the common purposes of life." Not long after I am sure the most infamous invention of the 'tute was pioneered by the adminstration. The "Tute Screw" has a long and illustrious history at RPI, cause no matter which you turn it, it always goes in deeper.
It is the first school of science and school of engineering having a continuous existence to ever be established in any English speaking country, and based on the student body at MIT, it still boasts the smartest English speaking students (population 25 of them or so...hehehe).
IN 1833, the school became the Rensselaer Institute and in 1861 the name was again changed to it's final version, Rensselaer Polytechnic Institute, or as everyone else calls it, RPI. RPI currently boasts five schools though I can only verify four. Architecture (we have the Greene Building, stuff goes on in there, and every five years a bunch of folks finally come out of it, but other than that I don't know what goes on in there..so it may be a secret government agency for all I know), Engineering, Humanities and Social Sciences (for those who wash out of engineering), Management (for our hockey players), and Science (for the nerds who don't want to apply it to the real world).
Through the years RPI grads have put together and impressive resume. A veritable who's who of nerds. Here are just some the things they've done and their class years.
John L. Riddell, 1829: Invented the binocular microscope.

James C. Booth, 1831 :Introduced nickel as a metal in U.S. currency.

James Hall, 1832 :Was the first New York State geologist; helped found the American Association for the Advancement of Science.

Eben Horsford, 1838:Devoted his life to the development of "yeast powder," now known as baking powder.

James H. Salisbury, 1846:Was a nutritionist, "Salisbury Steak" was named for him.

Washington Roebling, 1857:Oversaw construction of the Brooklyn Bridge.

Devolson Wood, 1857:Helped organize the American Society for Engineering Education and held its first presidency.

Edward P. Rothwell, 1858: Organized the Institute for Mining Engineers.

Alexander Cassatt, 1859 :Was the first 20th century President of Pennsylvania Railroad. Brother of Mary Cassatt, Impressionist painter.

Edwin Thacher, 1863: Introduced the most widely used slide rule into the U.S.

Henry A. Rowland, 1870: Was known as the "Father of Spectroscopy" for his pioneering work in the study of magnetic properties.

George Knapp, 1876: Was an industrialist, instrumental in founding the Union Carbide Company.

George W. G. Ferris, 1881: Invented, of course, the Ferris wheel.

Emil Praeger, 1915: Oversaw the renovation of the White House in 1949.

Erik Jonsson, 1922: Co-founded Texas Instruments, who marketed the first pocket calculator.

Milton Brumer, 1923: Led the team that built the Verrazano-Narrows Bridge.

Allen B. DuMont, 1924: Known as the "Father of Television" for his development of the cathode ray tube.

Percy Hill, 1945: Designed and patented the REACH toothbrush.

George M. Low, 1948: Managed the Apollo project that put the first men on the moon and later was President of Rensselaer. (Richard Harris played him in Apollo 13)

Marcian Hoff, 1958: Was part of the team at Intel of California that produced the first microprocessor.

William C. W. Mow, 1959: Founded Bugle Boy Industries and Dragon International.
Bobby Farrelly, 1981: Film maker (Kingpin, Something About Mary, Me, Myself, and Irene, Fever Pitch).

Janet Rutledge, 1983: Patented an innovative hearing device based on digital speech processing
Well that's all I have for now. Coming soon a special double post for this and the history blog:
"RPI and the Ironclad Revolution" along with other pieces on here "The Ratio", "Story Time", and "Skating Engineers". If I get to caught up in stuff, I'll just post top ten lists...like this one:
**for the record, graduation for the class of 2002 was moved on May 18, 2002 from Harkness Field into the Houston Field House (i.e. football field to hockey rink, due to a snow storm)***
Top 10 Rules of Life at RPI:
10. April snow squalls bring May snowballs.
9. When the going gets tough...drop the course.
8. Two out of three is a "D."
7. Do unto others whatever it takes to help the curve.
6. You scratch my back, I'll stab yours.
5. If at first you don't succeed, switch to management.
4. It's not what you know, it's what they think you know.
3. What goes up, must come down, excepting tuition.
2. RPI gets what you pay for.
1. Ask not what RPI can do for you, ask what RPI can do to you.